Westminster Post & Beam
59 Minott Road,
Westminster, MA 01473
978-874-2119

Skip and Nancy's house. Page 5
Back to Page 4

In early November 1999, Westminster Post and Beam erected a white pine timber frame on a hill in Petersham.
The pictures that follow show the building of Skip and Nancy's new home.
Please be patient; the photos may take some time to load....
This is page 5 of the photos.
NOTE: Click the small picture to view a larger image.

---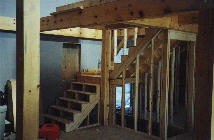 First floor stairs are roughed in.

---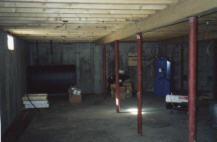 The heating system is started in the basement.

---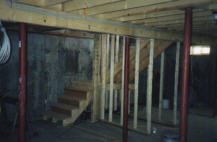 The basement stairs have been built.
---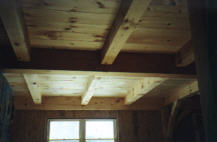 The kitchen ceiling. Nine inch wide shiplap pine boards were nailed to the frame.
---
Back to page 4
On to page 6