Westminster Post & Beam
59 Minott Road,
Westminster, MA 01473
978-874-2119

Skip and Nancy's home Page 2
Back to Page 1

In early November 1999, Westminster Post and Beam erected a white pine timber frame on a hill in Petersham.
The pictures that follow show the building of Skip and Nancy's new home.
Please be patient; the photos may take some time to load....
This is the second page of photos

---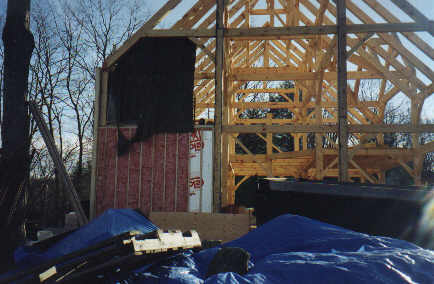 The framed wall behind the 12" field stone veneer is starting to be built.
The wall is constructed with 1/2" blueboard, 1" rigid "Hi R" sheathing, 2 x 4s on 12" centers with fiberglas insulation between, and 1/2" plywood sheathing. The 1" Hi R is continuous and provide a thermal conduction break at all the studs. The wall was screwed to the timber frame through each stud where it crosses a timber with 7 1/2" screws, then covered with 30# builders felt paper.

---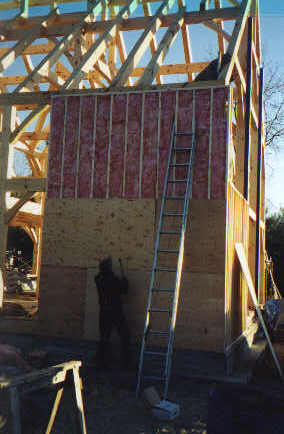 The stone wall will wrap around the side of the building.

---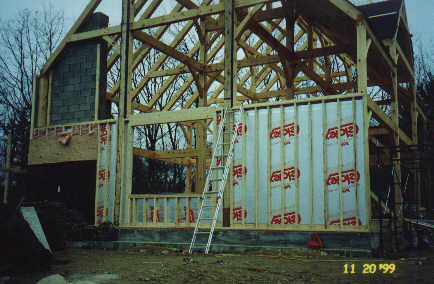 More of the front wall construction. The stone will cover the entire gable end. Notice the window frame in the center. November 20th 1999.

---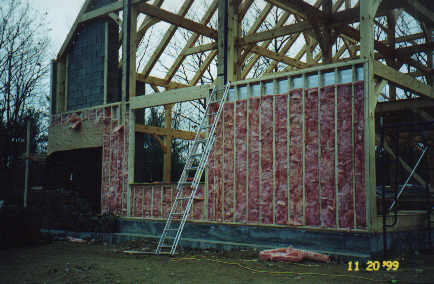 Fiberglass insulation installed in the cavity between the studs.

---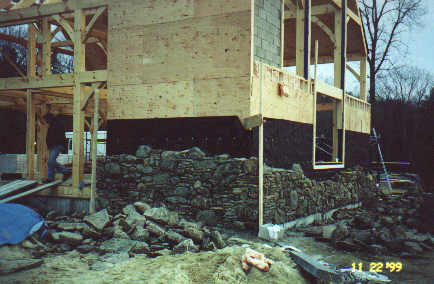 Exterior stone work started.

---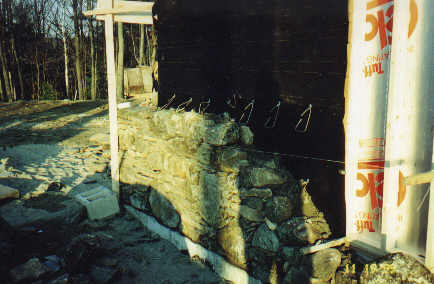 Notice the metal tie straps that connect the stone to the wall every 12" x 16".

---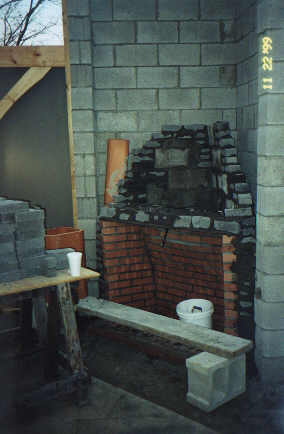 The fireplace inside has been started. The block work will be covered with stone.

---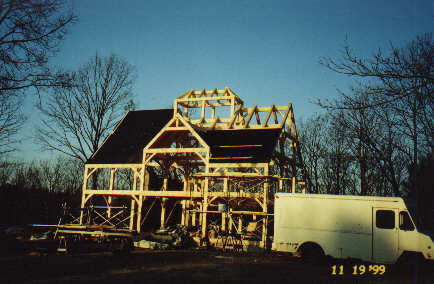 Pine shiplap roof boards are nailed to the rafters and covered with felt paper before the stress skin panels are applied.

---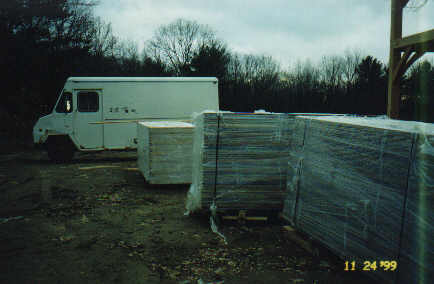 Stress skin panels arrive wrapped in plastic.

---
Back to page 1
On to page 3