VACUUM PACKERS
When Roscher took over GEBA it was a natural combination. One of the first developments using both companies expertise was the GEBA Vac vacuum packer. Unlike all other machines that were developed by the meat industry, the GEBA Vacs were developed specifically for the fish industry.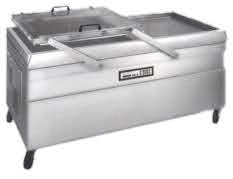 Bigger sized chambers, shallower depth, shorter cycle times are just a few qualities of these microprocessor controlled machines.
Unlike the meat industry's double chamber machines which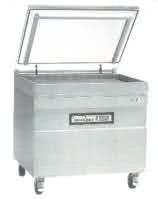 are excellent for the meat industry but only hold 4 fillets per chamber, the GEBA Vac 4 does 6 fillets per chamber in only 25 seconds! This shows an increase of output of over 50% when cycle times are considered.
Although the GEBA Vac is only 3 years old it is backed up by over 30 years experience in the vacuum packing industry. With the GEBA Vac 2, 3, and 4, there is a machine for what ever size operation you may have.
With GEBA Vac, you no longer have to settle for a machine that was designed for the meat industry.

---
23 WATER STREET POST OFFICE BOX 480
ASHBURNHAM, MA 01430 U.S.A.
TEL. (978) 827-3160 (800) 269- AFOS
Fax: (978) 827-3162
Email us at: ISSSmokesintheUSA@compuserve.com
This web site created by Wildman Mike Webdesign. Contact us at Mjfklf@aol.com